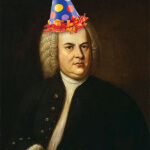 We join
Saturday, March 19 at 1:00 pm
Off Square Books
This will be a short program celebrating the birthday and music of Johann Sebastian Bach.
Free Admisison
---
Celebration of Spring in Music
and Poetry 
       Monday, March 21, 2016
7:30 pm
Celebrating the spring equinox, the birthday of Johann Sebastian Bach, and the Baha'i New Year!
Paris-Yates Chapel on the campus of the
University of Mississippi, Oxford, MS 
 Admission is free!
---
Music from Shakespeare's Theatre
In conjunction with the exhibition at the University of Mississippi  of the First Folio of
William Shakespeare's plays
with Jos Milton, tenor
Sunday, May 1, 2016
3:00 pm
Nutt Auditorium
University of Mississippi